Denefits' No-Fee Payment Plan feature allows businesses to offer payment plans to their customers, regardless of their credit scores, without any hidden fees.
This means that customers who may not have access to traditional financing options can still obtain the services they need while you get the exact amount of your service in monthly installments.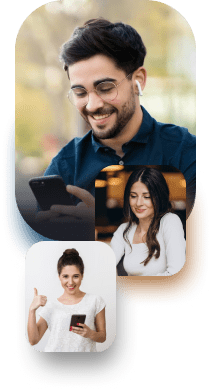 Also, Denefits PROTECTS your payments so start creating payment plans for your customers worry-free. If a customer misses a payment, you will still receive your money. This ensures that businesses can provide payment plans without any financial risks.
Grow your business
Here's how a business maximized its profit with Denefits' No Fee Payment Plan Solution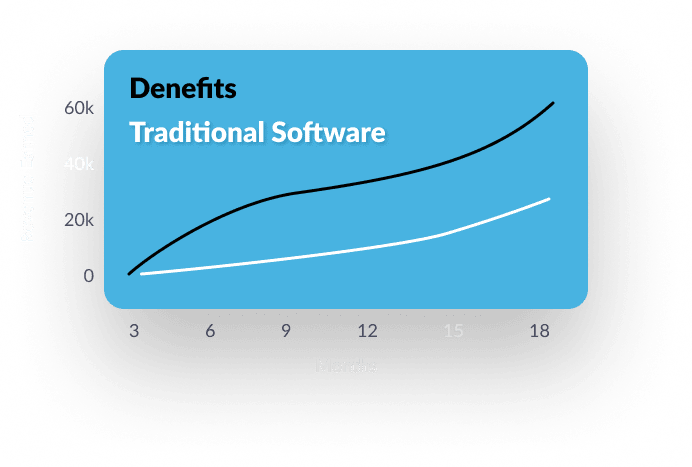 No-Fee Payment Plan is an excellent option for businesses that want to increase their sales and customer satisfaction while minimizing risks and expenses.
Offering No Fee Payment Plan can help your business stand out from competitors. You get the money you're owed, and your customer gets the services they need.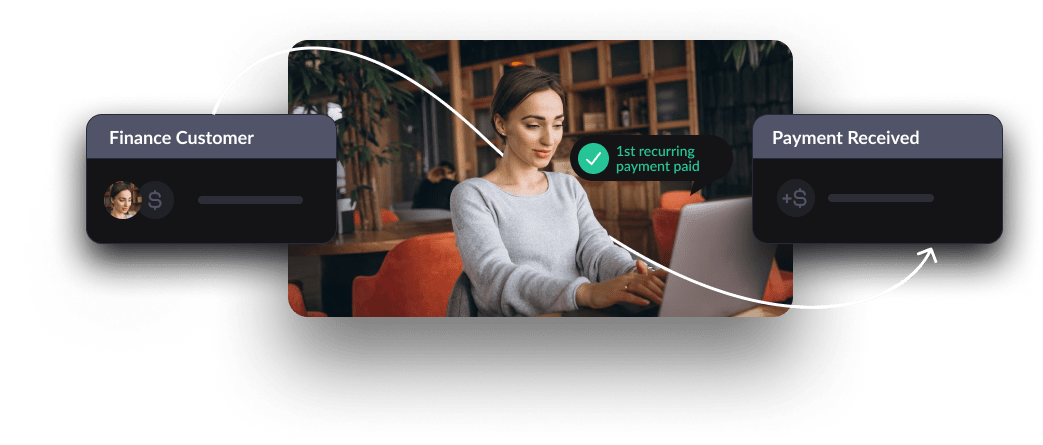 EZ Payment Plan has helped businesses increase their customer base by 33%, as customers who may not have been able to afford their services before can now make payments in installments with lower interest rates.
This feature is an excellent option for businesses that want to offer flexible payment options to their customers while earning revenue from the first recurring payment as Denefits doesn't keep any reserve payments. By providing lower interest rates, businesses can attract more customers and increase their sales. EZ Payment Plan is also an excellent option for customers who may not have access to traditional financing options.
Denefits charges interest, which is 2.33% lower than standard interest rates, only after the deferred period. But if a customer misses a payment in the first 3 months, an interest rate will be applied.
EZ Payment Plan With Deferred Interest
By offering so many benefits with Denefits' EZ Payment Plan with Deferred Interest, you attract people, gain a competitive advantage, and get paid from the first recurring payment. Your customer retention improves leading to exponential business growth.
The best part? All the payments are still PROTECTED by Denefits. So no more stressing about missed payments, just use Denefits's EZ Payment Plan and create payment plans for your customers risk-free.
Request a callback to scale your business's growth in real-time.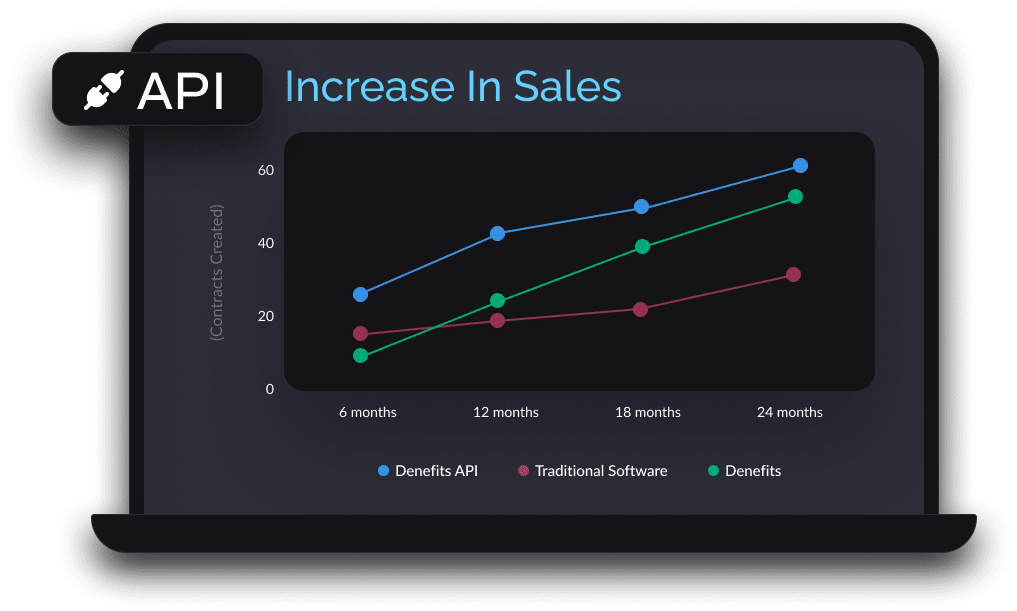 API Integration is an excellent option for businesses to use Denefits' system under their own brand, which helps improve brand recognition and customer loyalty.
Explore All APIs
This feature simplifies your workflow and is easy to use. You can create contracts for your services, which customers can either access directly on your website. Contracts can be customized to include down payment amounts and payment terms.
Integrate Pay Over Time
Denefits' software enables your customers to make purchases even if they can't pay in full at once, allowing your website to generate revenue 24/7. This feature can help turn potential customers into buyers and grow your business. And for a limited time, website integration is free, so there's never been a better time to try it out than now.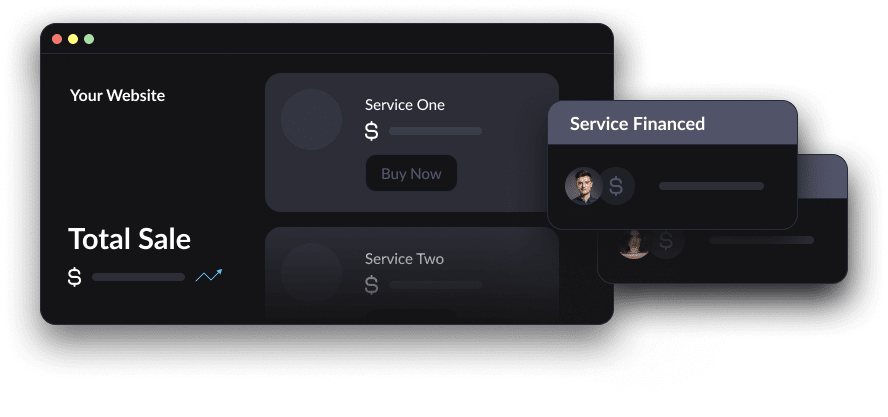 Request A Callback to integrate PAY OVER TIME now & watch your business grow.
74% of the businesses successfully recovered their bad debt and on average collected $52,912 in just 3 months with Denefits AR.
This automation not only saves time and effort but also minimizes the financial burden on customers, increasing the chances of successful debt recovery. Also, businesses get access to real-time insights which enables informed decision-making, timely actions, and proactive debt management.
Denefits AR goes beyond automation. It prioritizes maintaining positive customer relationships, even during the debt collection process. This preserves customer trust and loyalty and helps build a strong business reputation.
| Features | Debt Collecting Agencies | Denefits AR |
| --- | --- | --- |
| Automated Efficiency | No | Yes |
| Ethical Approach | No | Yes |
| Real-Time Insights | No | Yes |
| Error-Prone | Yes | No |
Denefits AR is for forward-thinking businesses that want to leverage the power of automation and real-time insights to recover bad debts efficiently while maintaining positive customer relationships, improving cash flow, and achieving financial success.
Try It Now
In addition, you have the flexibility to pass on or split transaction fees with your customers. So choose how to handle the fees based on your business strategy, market trends, or customer behavior.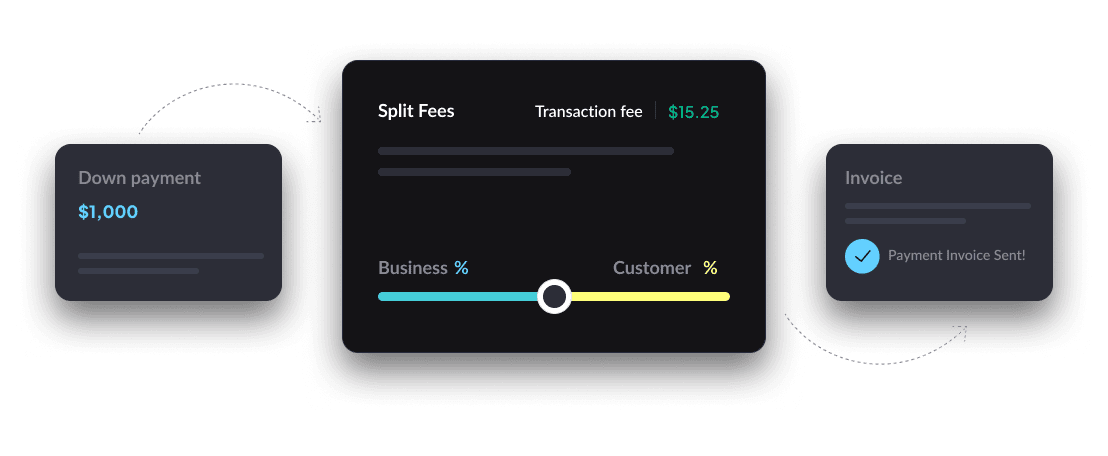 This feature is for businesses that prioritize seamless payments experience with enhanced security. Denefits help businesses foster positive relationships, optimize their revenue, and build trust with their customer base by Process A Payment feature.
To learn more Request A Callback Today !
Denefits adheres to strict safety standards & removes your burden of regulatory compliance. The software uses the latest encryption technology to safeguard user data from potential threats, and we regularly review and update our security protocols to stay ahead of the curve.
Our commitment to data privacy and security is evidenced by our accreditation from the Better Business Bureau.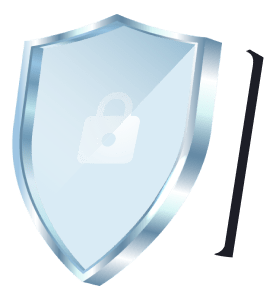 Win-Win Situation for
Businesses and Customers:
Denefits' payment solutions provide a win-win situation for businesses and customers. By offering obtainable payment plans to customers, businesses can increase their sales and customer satisfaction. Customers have the opportunity to improve their credit scores while paying off their contracts, which helps them achieve their financial goals.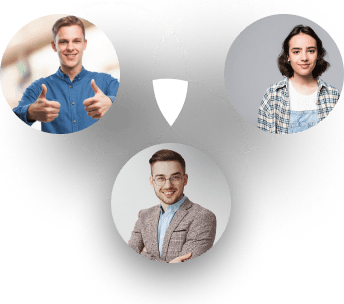 This feature is an excellent option for businesses that want to provide flexible payment plan options to their customers while also increasing their revenue.
Customers are 76% more likely to buy if they have access to flexible payment plans, which makes Denefits' payment solutions an excellent option for businesses that want to expand their customer base and increase their sales.
Team Denefits will arrange FREE Training for you to ensure you understand the software thoroughly and are well-equipped to recommend it to others. Also, you will get access to Business Package, Business Brochure, Customer Package, Customer Brochure and more marketing resources to spread Denefits' word more swiftly and easily.
The amazing thing is that you can earn UNLIMITED REVENUE by making SMART recommendations. Also, Denefits is expanding its reach across various industries and countries, allowing you to discover new income opportunities all over the world.
Every month, 100+ users sign up for Denefits' Affiliate Program and find it a secure and reliable way to earn extra income. Most of the users have earned an impressive $10,000 as commission on sales in just 6 months after joining the program!
At Denefits, we're passionate about promoting accessibility and affordability for all. We operate in over 27 countries & are on a mission to empower businesses, help customers, and create job opportunities for people worldwide.
We believe that everyone should have access to the services they need, regardless of their financial situation or background. By breaking down barriers and promoting diversity and equality, we can make a positive impact on the world and create a more inclusive community.
Join us in our mission to create a better future for all. Together, we can make a difference and transform the way we approach accessibility and affordability.
Australia
Canada
France
Spain
United Kingdom
Germany
India
United States
Italy
Mexico
New Zealand
Free Plan
Yes, it's absolutely free! Get started with our basic features and explore the power of Denefits.
Silver Plan
Maximize your business potential with our Silver Plan. Enjoy advanced features and achieve success beyond your expectations.
Gold Plan
Take it up a notch with our Gold Plan. Get access to premium features and give your customers the best payment experience.
Platinum Plan
For the ultimate Denefits experience, choose our Platinum Plan. Enjoy exclusive features and benefits that will help you grow your business
Make your services more affordable and accessible to a diverse customer base with Denefits.
Our software enables you to expand your customer base, increase revenue, and take control of your finances like never before. Join Denefits and experience the future of payment solutions.