What's brewing up just in time for
We have a spook-tacular update for you,
Denefits is going multilingual. 
It will speak 9 languages: English, German, Italian, French, Spanish, Polish, Japanese, Chinese Simplified, and Chinese Traditional with more add-ons down the line.
That's a multi-language feast and everyone's invited!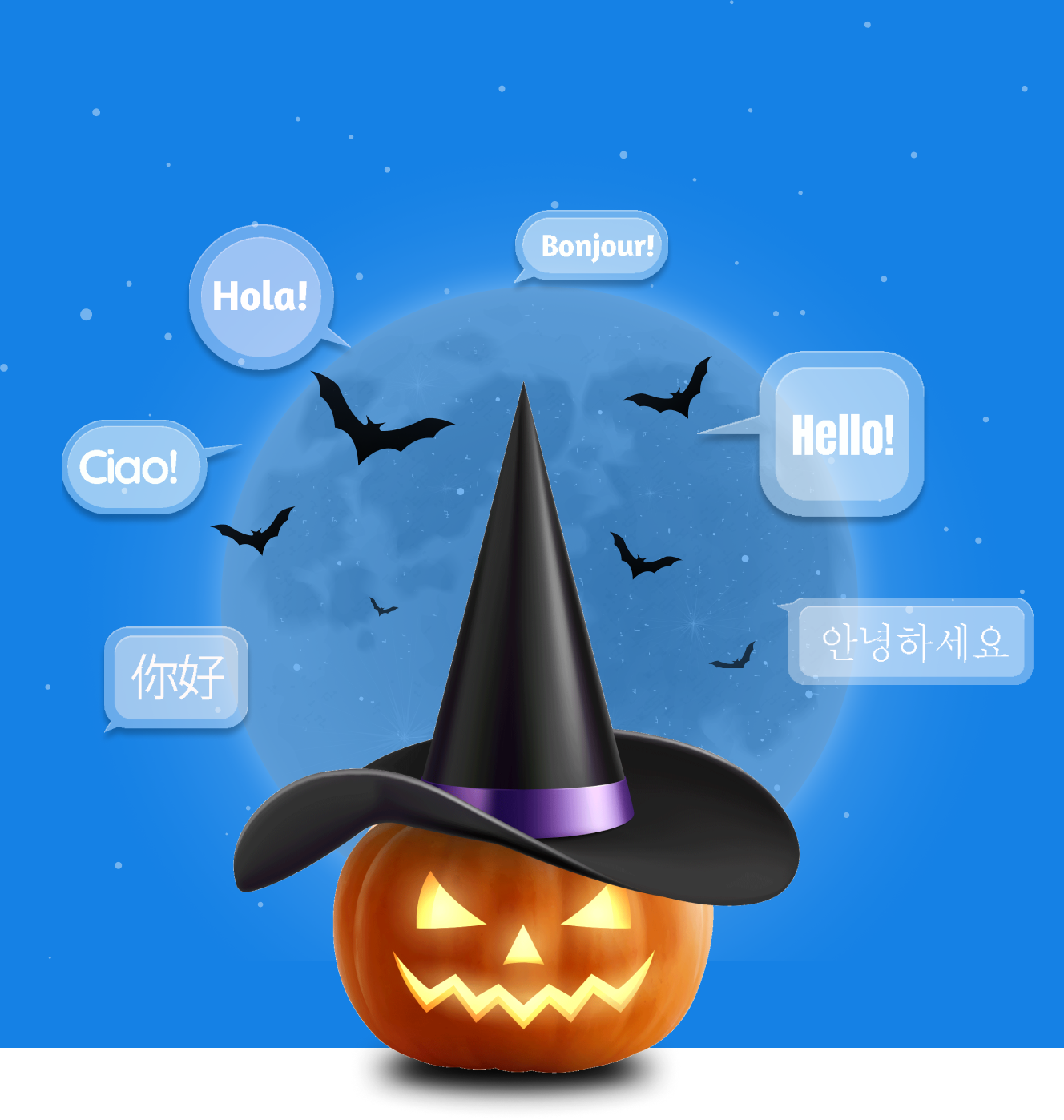 As the spooky season creeps in, don't let language
barriers haunt your business and customers.
Create payment plans in the language you and your customers prefer!
But that's not all! This enchanting update has countless benefits for you including:
All in all, Denefits has a Halloween Treat for you
that's sweeter than candy!
Plus,  it's not just about what we say; it's about what we deliver.
Watch our feature-packed video to unlock the true potential of Denefits
What makes Denefits the best?
Let's take a closer look at how Denefits stacks up against the competition.
What makes Denefits the best?
Let's take a closer look at how Denefits stacks up against the competition.
Aspect
Denefits
Traditional
Lenders
Software-Based
Lending Solutions
Financing Type
Offers flexible
payment plans.
Various loan types, e.g., personal, auto, mortgage.
Varies by software, offering different types of loans.
Credit Checks
No credit check policy.
Typically require credit checks.
Credit check policies may vary.
Approval Rate
High (95%)
Varies
Varies
Application Process
Quick and streamlined online process.
May involve in-person meetings.
Online applications but varying processes.
Approval Time
Instant approval for certain options.
May take days to weeks for approval.
Approval times vary.
Prepayment
No prepayment fees charged.
Some lenders may charge prepayment penalties.
Prepayment policies vary.
Customer Support
World-class customer support team.
Traditional lenders offer support.
Support channels offered vary.
Training and Resources
Extensive Resources
No
Limited Training
Subscription Plans
Affordable subscription plans.
Not applicable to traditional lenders.
Varies
Integration Capabilities
Seamless Integration
Not available
Limited compatibility
Integration Capabilities
Seamless Integration
Not available
Limited compatibility
Payment Protection
Yes, it offers payment protection.
Varies by lender and may include insurance options.
Availability varies among software solutions.
Multi-Lingual Support
Yes (9 languages)
No
Limited
Affiliate Program
Yes, without any commission caps
Varies
Varies
Automated Debt Recovery
Yes
May have collections departments
Availability may vary
Have it all—efficiency, profitability, and happy customers!
Denefits makes it possible.
A Feature That's
Halloween Candy Of Success.
We've got a treat that's bound to cast a spell on your business-
our best-selling feature, Denefits' API Integration!
Integrate Denefits into your existing website or software in a breeze, with dedicated support to help you get started quickly.
Here's why it is a hauntingly good business
upgrade:
Let Denefits API Integration be the magic wand your
business needs this Halloween season.
Experience the power of automated debt recovery
at your fingertips!
Say goodbye to chasing payments. Denefits' Accounts Receivable helps make collecting outstanding accounts as easy as pie, so you can focus on growing your business. Also, it offers flexible payment options to ease your customers' financial burden.

But that's not all! Denefits AR also means instant payments, and positive customer relationships, trustworthy reputation, and improved cash flow.
Un-BOO-lievable News!
Unlock a full year of no-interest payments for your customers!
We have expanded our EZ Payment Plan from offering a maximum of 3 months deferred duration to an impressive 12 months of deferred interest.

This significant improvement opens up a world of possibilities for your customers, making it even easier for them to access your services. Also, they can clear the entire contract within this deferred period, increasing the possibility of early payoffs. Attract more customers, boost sales, and gain a competitive edge while building lasting customer loyalty. Don't miss this golden opportunity to grow your business!

Stay tuned for more exciting updates.
Until next time, have a wonderful October filled with endless business possibilities & happy customers!
---
Committed to Innovative Financing.
Committed to Your Success.
Denefits © . All rights reserved.