Feature Of The Month EZ Payment Plan With Deferred Interest (12 Months)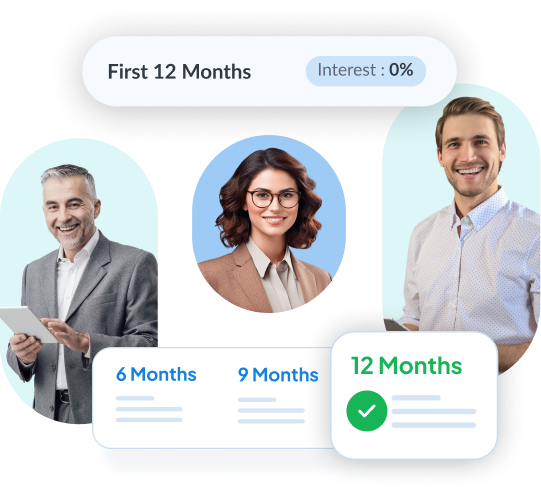 Just like a Thanksgiving feast, this payment plan is all about abundance. Your customers enjoy the first 12 months* without interest while you  enjoy no reserve payments and increased sales! Customers can settle their entire contract without any interest within the deferred period, leading to early payoffs.
What's sparking this hype?

Attract More Customers: This attractive 12-month offer draws in more customers who love interest-free payments.

Boost Sales: A year without interest encourages customers to make bigger purchases or even pay off fast.
Competitive Edge: Providing a unique interest-free offer sets your business apart from regular lenders and enhances its reputation.

Loyalty Builder: Happy customers are more likely to return for future purchases, fostering customer loyalty.

Enjoy Repeat Business: A customer-friendly financial solution keeps business flowing and customers coming back for more.
It's time to make this Thanksgiving extra special for your business and customers alike.
Multi-Language System
Language should never stand in the way of your business growth, and at Denefits, we've made sure of that. Our multi-language panel empower businesses to connect with customers in their preferred language, ensuring a smooth and hassle-free experience.
Multi-Language Success Story
In our first multi-language success story, we'd like to introduce you to a thriving business located in a culturally diverse neighborhood in New York City.
With Denefits' English-Only Support
When this business started using Denefits, it noticed a gradual increase in sales and customer satisfaction over the initial months. However, the business realized that it was located in a culturally diverse neighborhood where various languages were spoken, and it was missing out on reaching more potential customers.
With Denefits' Multi-Language Support
The multi-language support of Denefits opened the doors of the business to a wider range of customers in its community. By offering financing options in Spanish, Italian, Chinese, and other prominent languages spoken in the area, the business saw a 25% increase in its customer base, directly translating to an impressive 20% boost in revenue in just one month!
The business success story shows how powerful our multi-language feature is.
to learn how it can help your business grow in a diverse market.
Case Study: How This Medical Practice Enjoyed Higher Savings and Security with Denefits' No-Fee Payment Processing
The Challenge: Losing Money with Traditional Payment Processing
A bustling healthcare facility in Houston's competitive market, was facing a common financial challenge. For years, they had been losing money to other payment processing systems due to hidden fees. Each time a patient made a payment, a portion of it was deducted as a fee, cutting into the practice's revenue. Also, the practice was also concerned about the security and speed of transactions.
The Solution: Denefits' No-Fee Payment Processing
The practice recognized that it was time for a change. They turned to Denefits for its no-fee payment processing solution.
The Outcome:

Savings: The practice eliminated hidden fees and extra costs, saving a staggering $3689 in the first 3 months.

Security: The practice could now confidently process payments without worrying about data breaches or privacy concerns.

Efficiency: Faster transaction processing meant that patients experienced a smoother, more efficient payment process.
It's not just another success story; it's a proven solution. Experience the difference for your business too.
And that's a wrap for this month!
Stay tuned for more exciting updates from Denefits.
Have a warm and wonderful Thanksgiving!
Committed to Innovative Financing.
Committed to Your Success.
Denefits © . All rights reserved.