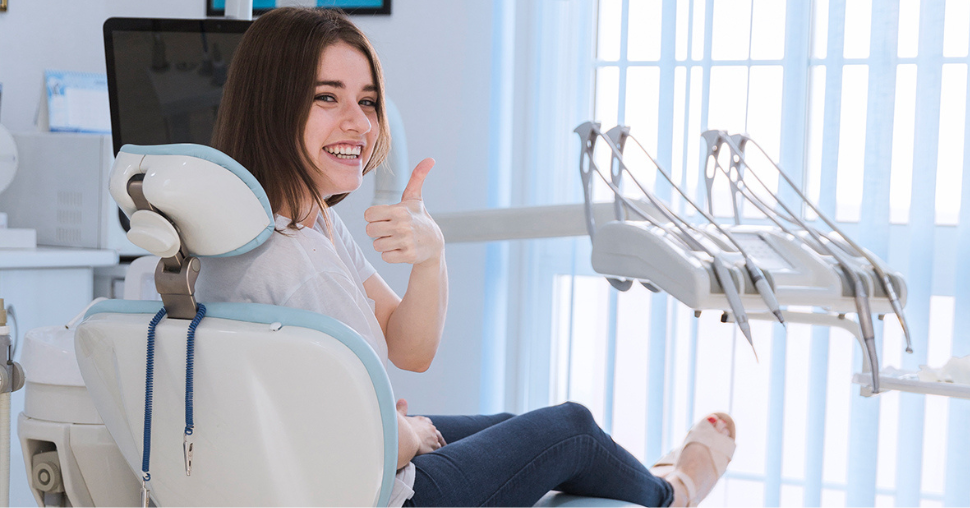 According to the 2018 Adults Oral Health and Well Being survey, 42% of Americans don't visit the dentist as often as they would like to. It seems the hesitation to visit the dentist stems not only from dental phobia, but the overall cost of dental care.
In fact, the ADA reported in 2016 that dental care has the highest cost barrier in comparison to other healthcare services. It can be easy to dismiss oral health and label it unimportant, but that's far from the truth. Oral health is important and should be treated no matter the cost.
Did you know that untreated gum disease increases the risk of heart disease, diabetes, and more? Not treating your oral health can lead to serious disease, so routine dental care is crucial for living a healthy life.
Don't be ashamed of going to the dentist to get treated. Your health comes first. So, if you need to pay a big dental bill, read this blog to learn more about why dental payment plan is the best payment option for you. 
Your Payment Options
Loans
You can search for dental loans online if you have the urgent dental care you need to pay for. Dental loans are a type of personal loan, so your credit will determine if you're eligible for one.
Therefore, if you have a good credit score, you're more than likely to get approved for a dental loan. Dental loan interest rates, however, are typically a bit higher than typical loan rates because they're not backed by collateral.
An asset is considered collateral. For example, if you take out a hefty car loan and miss multiple payments, your car can be repossessed by the lender. On the other hand, a dental crown, filling, or any other service can't be undone or taken back.
So, if you're weighing your options, get prequalified before applying for any kind of loan. A regular application will result in a hard inquiry on your credit report that can harm your existing score.
Also Read: Why your dental practice should offer payment plans
Credit Cards
Using a credit card is another option for paying off your dental work. If you have a card with a low-interest rate or open a card that offers an introductory 0% APR period, swiping your card might just be the way to go.
Medical credit cards can offer promotional financing as well, but some providers don't offer all available options for promotional financing. Plus, medical credit cards like Care Credit can deny your application or give you a high APR if your credit isn't the best.
Even if you have good credit, but you've racked up a lot of debt then an additional credit card isn't the way to go. If you don't fully pay off the amount in the designated promotional period, deferred interest will add to the amount you already owe.
Dental Payment Plan
Ask your dentist if they offer dental payment plans for patients. Payment plans will allow you to get the overall cost of your service into payments over time.
You can get in-house Payment plan options from your dentist, or flexible payment options if your dentist is partnered with a lender. Although, like with traditional lending, most lenders run a credit check.
Payment Plan can be your most affordable option if you need general, orthodontic, or cosmetic dentistry. Getting the overall cost over your service with dental payment plan works best when your dentist is partnered with systems like Denefits.
Denefits offers flexible payment plans for patients no matter what their credit score is. By running no credit checks and offering instant approvals, no patient is turned away. Denefits is an innovative and easy payment solution for all.
Dental Payment Plans Helps if You Have
Bad Credit
Excessively applying for loans or credit cards will impact your credit score. Having a low credit score results in denials since lenders will consider you a risky borrower.
Struggling with a low credit score doesn't mean you can't get affordable payment plans. Denefits provides affordable dental payment plans for all the important dental treatments necessary for your teeth. 
Other Expenses
Opt for payment plan if you can't pay the full cost of dental work upfront. Dental payment plans won't make you choose between your health and financial stability. With dental payment plan, you can have both. 
Additionally, dental payment plan gives you the wiggle room you need. You can use your paycheck to pay for other bills or still budget in saving for a rainy day. 
If you require a flexible payment method, manage your finances with monthly payments. Payment plans will let you select the allotted time needed to pay off your dental bill. A set monthly payment plan will let you plan accordingly so you don't have to dig into your savings.
No Insurance Coverage
Dental insurance policies can have coverage cut-offs. Insurance policies may limit the number of procedures you have or put an annual capacity of money they'll spend on your services per year.
For instance, say your annual max is $1,500. The annual max is the total amount your dental insurance provider will pay for your care in the term year. If you have already spent your annual max earlier in the year, then you'll need to pay for your care out of pocket.
Insurance plans also rarely cover cosmetic services. So, if you desire braces or any cosmetic fix, it's up to your plan whether they cover some of your costs or none at all.
Get a Monthly Payment Plan with Denefits
Denefits is a payment solutions system for businesses and customers alike. It allows dental practices and other businesses to accept every customer.
If you have bad credit, Denefits has your back. Denefits won't run any credit checks and reports all payment history to the credit bureaus. You'll get instantly approved and the treatment you need while boosting your credit score with on-time payments. If you're interested in learning more about Denefits and how to get dental payment plan today, request a callback from the Denefits team.