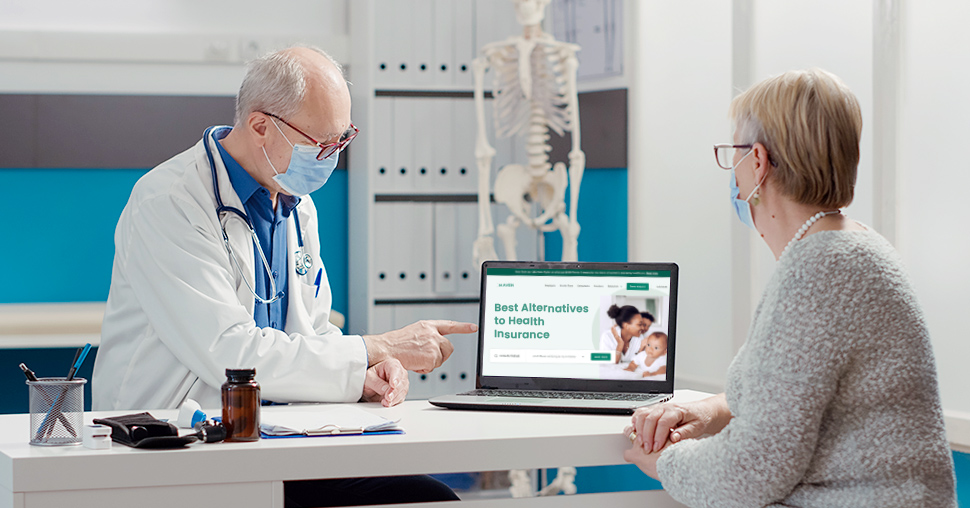 Health insurance provides coverage against a wide range of health concerns. But over the years, it has become pretty expensive. In fact, as per a 2021 survey, 64% of respondents said they couldn't afford coverage due to high costs.
Are You Aware of the Alternatives to Medical Credit Cards?
Explore How Payment Plans Are the Best Alternative to Medical Credit Cards
As a result, most patients are looking for options beyond traditional health insurance. In this article, learn about the best alternatives to health insurance that can help you offer more accessible care to patients.
Why Should You Explore Health Insurance Alternatives?
Here are the top reasons:
(A) Demand for flexible payment options
As per a 2022 survey, 61% of patients prefer providers who offer ease of payment. In fact, younger generations are much more likely to switch providers because of affordability.
(B) Cost-effective solution
Many uninsured patients suffer from a lack of access to affordable health care. In this case, offering alternatives to health insurance like flexible payment plans is ideal. They can prove to be a cost-effective solution for both providers and patients.
(C) Customized payment options
By adapting innovative alternatives such as payment plan software, you can offer payment options that fit your patient's needs. Hence, you can ease the financial barriers to health care.
Top 5 Alternatives to Health Insurance
Here are the best alternatives that can help:
1. Medical Credit Cards
These are designed specifically for healthcare expenses. They allow patients to pay for medical treatments over time.
These are ideal for patients with a credit score of 620 and above. So if you get patients with poor credit scores, they may not qualify.
2. Flexible Payment Plans
These allow patients who can't afford to pay their medical bills all at once to make manageable monthly payments. You can use payment plan software like Denefits to offer custom payment plans to your patients and ease their financial burden.
It's the most convenient option since Denefits has a NO CREDIT CHECK POLICY. You can support more patients while earning their loyalty and also recurring income just by integrating this software into your existing system.
3. Cost-Sharing Insurance Programs
These are government-subsidized plans that increase health insurance coverage for the uninsured. These usually come under the Affordable Care Act (ACA). However, there are many limitations to these programs for healthcare providers.
These are only ideal for specified groups based on specific patient demographics, locations, and regulatory changes. Hence, they may offer limited accessibility.
Other challenges include-
Administrative complexity related to verifying patient eligibility and ensuring compliance.
Potential delays in receiving reimbursements from insurance companies or government agencies.
The program may not fully cover the cost of treatment for patients, increasing the actual cost to providers.
4. Discount Cards
These aren't like insurance, but they can help your patients save money on various healthcare expenses. Medical discount cards work similarly to coupons. Patients can use these to get medical services and prescriptions at lower rates.
Many doctors, pharmacies, and hospitals across the U.S. partner with companies like SingleCare and GoodRx. They connect the network of providers who offer discounted rates with patients.
All patients can use medical discount cards, but they need to pay out-of-pocket for the services. Hence, these may not be ideal for those who lack ready-to-use funds for upfront payments.
5. Indemnity Insurance
These are also known as "fee-for-service" plans. Policyholders pay for services in advance, and the insurance company reimburses them later.
These allow patients to choose any doctor or medical facility they want, so there is more competition for providers. The insurance company usually pays a fixed portion of the expenses, so providers may also need to directly negotiate with the insurance company for fair compensation.
While it gives more options to patients, they may also need to pay out-of-pocket, which can complicate the billing process for providers.
Comparison Between the 5 Alternatives to Health Insurance
Alternative
What it is
Pros
Cons
Medical Credit Cards
Specialized credit cards for healthcare expenses
✔ Quick access to funds
✔ May offer promotional financing
❌ High-interest rates
❌ High credit score requirements (i.e. 620 or more)
❌ This may increase the medical debt for patients
Denefits Payment Plans
Allows patients to pay for their health care costs in easy installments
✔ Budget-friendly option
✔ Flexibility in payments
✔ NO CREDIT CHECKS
✔ Lower interest rates
✔ Long-term payment plan options range from 3 months to 48 months
✔ High Approval Rates
✔ Protected Payments for providers
❌ Cannot offer payment plans for bills amounting to less than $300
Cost-Sharing Insurance Programs
Groups sharing healthcare costs (i.e., churches, ethnic groups)
✔ Lower monthly costs for patients
✔ Government subsidies help ease the financial burden on patients covered under the program
❌ Administrative complexities
❌ Delays in payment reimbursement, disrupting your cashflow
❌ Available for a limited network of providers
Discount Cards
Discounts on medical services and prescriptions
✔ Ideal for patients regardless of insurance or no insurance.
❌ The patients need to pay upfront, which may not be viable for all
❌ Inflexibility in payments
Indemnity Insurance
It's a type of insurance that pays out fixed expenses for health care services, regardless of the actual cost
✔ Ideal for younger individuals who don't need many healthcare services
✔Covers preventative treatment costs.
❌ Increased workload due to paperwork
❌ Providers might need to directly negotiate reimbursement rates with the insurance company
❌ More competition for providers as patients can choose any provider
Conclusion
As the healthcare landscape is changing due to increasing costs, the need for more affordable alternative options has increased. Hence, it's crucial to weigh the pros and cons of using various health insurance alternatives for your practice.
Among all the options, payment plans stand out as the most ideal for your practice and patients. You can choose the ready-to-integrate Denefits payment plan software to get started right away. It allows full control over creating tailored plans as needed.
Simply schedule a demo with Denefits to see how it helps!