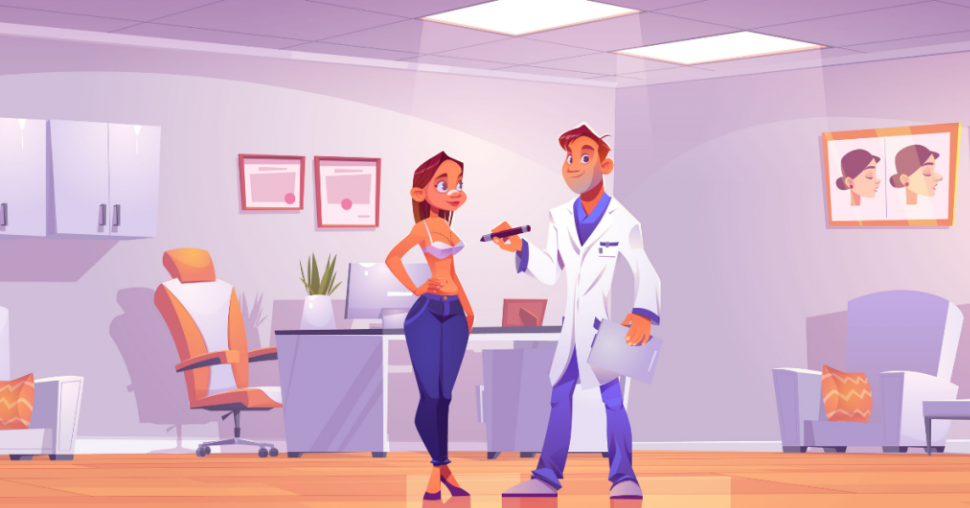 Patients are often unsure of how breast augmentation is different from a breast lift. But they surely know that they are unhappy with the size, shape, and/or firmness of their breasts. Breast lift and augmentation are similar surgeries and can be equally costly. Financing the wrong surgery, or the right surgery for the wrong reasons can lead to negative expectations and a drained wallet.
So, it is important to understand what the differences between these two surgeries are. That way, you won't waste money on getting the wrong procedure. Moreover, you will be you be able to avoid unnecessary debt, regret, unhappiness, and confusion.
There are many different kinds of breast surgery, and each has its own pros and cons, depending on your goals and personal preferences. Any kind of surgery on the breasts involves incisions, which can leave scars, but usually, they fade to a faint straight line(s). The reasons patients get any kind of breast surgery can range from:
Recovery/aided treatment if they had or have breast cancer
Lumps in the breast(s)
Breast reduction surgery due to back pain
For cosmetic purposes
Due different sizes, or shapes of the breasts
What Is a Breast Lift?
A breast lift is different from a breast augmentation but is still considered a surgery that helps those not only looking to enhance their appearance but for health reasons as well. A breast lift is designed to improve the appearance of saggy, drooping breasts that were caused by weight loss, pregnancy, skin elasticity, and hormonal changes. Breast lift procedures are primarily focused on the position of the breasts.
During this type of procedure, a certified surgeon focuses on removing excess skin, tightening the surrounding skin, and even repositioning the nipples to align and contour with the surrounding breast tissue. Since the main goal of a breast lift is to remove excess skin, this leaves breasts looking fuller and more shapely, while also posing fewer health risks. Also known as a mastoplasty, this procedure is recommended for patients who are unhappy with the position of their breasts, not necessarily the size.
What Is Breast Augmentation?
Breast augmentation is different from breast lift because it focuses more on enhancing and increasing the size of the breasts by using silicone or saline implants. There is more to breast augmentation than just size. The size also comes with the process of determining the right implant size, shape, and position for the patient's chest. Final results of breast augmentations often take longer to see than results of breast lift procedures, only because of weight fluctuations, or aging factors. They also sometimes need to be replaced over time.
How Do I Choose Between the Two?
Depending on what a patient wants or needs, a patient should consider getting a breast lift if they're unhappy with the sagginess, size, the appearance of their breasts, or if they feel their breast position has been altered due to weight loss or having a baby. Breast augmentation should only be considered for cosmetic reasons, to bring life back to the chest after fighting breast cancer, or to boost self-esteem and confidence.
Generally, this procedure should also only be considered if there are no other health risks. If a patient wants a breast lift and an augmentation at the same time, that is also an option. Since a person's breasts are not always 100% symmetrical, this is quite a common procedure. It is not uncommon for a different procedure to be done on each breast. Always be sure to schedule a consultation with a highly trained and experienced surgeon to decide if you want/need a breast lift, breast augmentation, or even both before agreeing to any major surgical decisions.
Prices
The average cost for each procedure varies depending on the surgical facility, costs for anesthesia, if any other procedures need to be performed alongside or prior, and prescription medications. It is important to keep those factors in mind.
Average Cost for Breast Lift: $4,800
Average Cost for Breast Augmentation: $3,825
*These do not include other additional fees.
Financing Options
Many doctors and other medical facilities offer ways to finance surgeries for their patients–even for breast lifts and breast augmentations. Usually, financing is done through a surgical facility of their own or a third-party company. One example of a third-party financing company is Denefits.
Denefits partners with many plastic surgery facilities as well as other various doctors to help their patients finance those costly medical bills. This not only benefits the patient so they don't have to stress about not being able to afford their surgeries, but it also benefits the doctors and builds up their practice.
Denefits is a great option because they run no credit checks, and they are always willing to negotiate the right payment plan for you. Every step of the process is hassle-free, and a Denefits representative will walk you through everything you need to know, which includes: the payment plan that is most affordable for you, how to make payments, and how your credit score can improve. Try Denefits today!